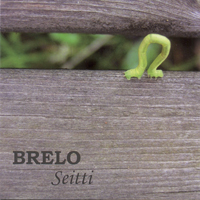 Brelo is a group of enthusiastic and skilful young players from Laukkoski, directed by Vilma Timonen.


On this recording you can hear small kanteles, concert kanteles and Saarijärvi kanteles. The group also sings.
Seitti presents the group's own new playing styles as well as traditional ones, such as the style of plucking with wooden sticks and the chord strumming (sulkusoitto).

Four pieces on the record are compositions by group members. All arrangements are the group's own.
Seitti:
01.
Seitti
02
Chanter-Glenlivet
03.
Sienimetsän sankari
04.
Kun mun kultani tulisi
05.
Ruskova
06.
Varhain
07.
Suutarin häävirsi
08.
Roches favourite
09.
Jos tietäisin
10.
Ajde Jano
11.
Polska Kuortaneelta